Roofing & Re-Roofing
Residential & Commercial Services
NEED A RELIABLE ROOFING COMPANY IN GRESHAM OR THE PORTLAND AREA?
Residential
A new roof does wonders for your property! Not only does it increase the curb appeal and look of your home, but it can also increase the value of your home substantially. We love working with local homeowners to provide exceptional roof installation services for repairs, complete remodels, and more.
Commercial
In addition to roofing and re-roofing services for Portland homeowners, we also work with local businesses. We know how important a well-built roof is for any building, but this is especially true for PNW businesses. With unpredictable weather and lots of rain every year, we give Portland businesses the peace of mind they need to know their businesses will stay nice and dry in any season.
Schedule Your Appointment
Ready for the roof of your dreams? Schedule an appointment now by clicking the button below!
Increased

Value

A brand new tear-off roof is a major selling point for a house. It adds resale value to your home. If you know you're going to sell your home at some point down the road, a tear-off is probably the best for you.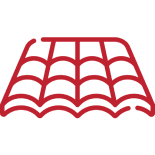 A Full

Replacement

Everything is brand new when you invest in a tear-off roof job. This means that you will no longer have any rots, leaks, or other damage that may have occurred because of the condition of your old roofing materials. We take everything off your roof, so we get a clear look at what's going on under your shingles.

Higher

Quality

Since you will be getting a brand new roof, we will be able to assess all the high-risk areas of the structure to give you the best quality product possible. This means we can install new flashings and ensure that your roof is completely watertight for years to come.

Long-

Lasting

When we replace your entire roof, it will last much longer than an overlay job. This is because you will have brand new materials that are less susceptible to wear and tear brought on by heat-trapping, which is very common when you have extra layers on your roof.
Family-Owned & Experienced
Why Choose Rainy City Roofing
Rainy City Roofing, LLC is a family-owned business. We dedicate ourselves to high-quality services our customers can count on. Whenever you need our help, just give us a call! We have highly trained staff members available to help answer your questions and address your roofing needs.
With more than 20 years of experience, Rainy City Roofing is one of the most trusted roofing services in the Portland area for roof tear-offs, re-roofing, cleaning, gutter installation, and more.
We are a local, certified roofing company in Portland, and we can't wait to keep your family safe and dry for years to come!
Request Roofing Services in Portland Now: (503) 577-2176