Gutter Installation
Residential & Commercial Services
NEED A RELIABLE ROOFING COMPANY IN GRESHAM OR THE PORTLAND AREA?
Residential Gutter Installation
Your gutters are an essential part of your home. For Pacific Northwest homeowners, gutters are especially important year-round. With how much rainfall we receive in this region, well-built gutters are non-negotiable.
At Rainy City Roofing, we help homeowners with roof installation, as well as gutter installation. With how closely connected your roof and gutters are, proper gutter care is essential for your roof's longevity.
It is easy to choose Rainy City Roofing as your preferred gutter service, thanks to our expertise with both roof and gutter installation.
Commercial Gutter Installation
Just like residential properties, commercial businesses of all sizes rely on their gutters to help draw water away from their properties and prevent flooding. Businesses can save a great deal of money in the long run by investing in properly installed gutter systems.
We ensure your gutter installation is precise, long-lasting, and high-quality. Thanks to our experienced team, you can rest easy knowing that your new gutters will last you for years to come.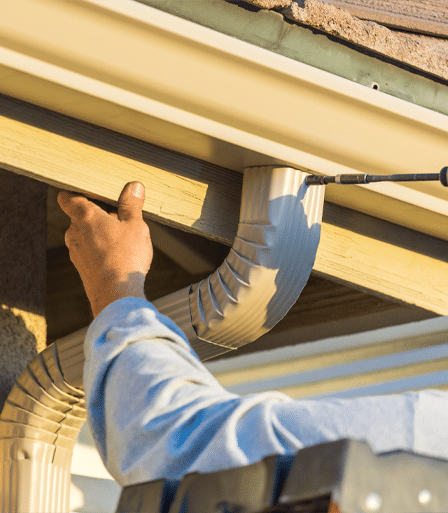 Schedule Your Appointment
If your home or business is in need of new gutters, don't wait! We want to help ensure your home or business stays nice and dry throughout every season. Click the button below now to schedule an appointment.
Decades of Combined Experience
Why Choose Rainy City Roofing
As a family-owned business, we always dedicate ourselves to high-quality services for our customers. Whenever you need our help, just give us a call! Our highly trained staff members are available to help answer your questions, address your roofing concerns, and get you set up with an expert that will get the job done.
With decades of combined experience among our team members, Rainy City Roofing is one of the best roofing companies you can consider in the Portland metro area. Our dedication to customer service and satisfaction is unmatched! Whether you need gutter cleaning and installation, roof replacement, or anything in between, we are here to help!
We are the local, certified roofing company in Portland you can trust. Let us help you with your gutter and roofing needs today!
Request Gutter Installation in Portland Now: (503) 577-2176