Roof Repair
Residential & Commercial Services
NEED A RELIABLE ROOFING COMPANY IN GRESHAM OR THE PORTLAND AREA?
Residential & Commercial Roof Repair
A quality roof makes for a protected home. Rainy City Roofing offers the roof maintenance Portland needs to stay safe and dry in any weather. Even a small leak or crack in your roof can escalate into a major problem very quickly. If you notice any repair with your roof that needs to be taken care of, be sure to call us ASAP.
We also work with businesses in Portland to address roof tears, cracks, leaks, and other damages. With unpredictable weather here in the PNW, we are quick to meet you on-site, evaluate your roof, and get to work.
Rainy City Roofing offers superior customer service and treats you with the respect you deserve. With our top-quality workmanship, our team always exceeds customer expectations.
Contact our Team Today to Get Started: (503) 577-2176
Schedule Your Appointment
Don't delay! Roof cracks, tears, and other problems need to be addressed fast if you want to avoid more extensive problems with your roof. Click the button below to schedule an appointment.
5 Problems You Shouldn't Ignore
Signs You Need a Roof Repair
1 – Signs of Moisture or Wet Spots
If you notice wet spots in your attic or on your ceilings, it is possible that there is a leak in your roof. 
2 – Presence of Mold
In addition to signs of moisture, you may also notice algae growth on or around your roof or within your home. This sign also indicates that there might be a crack or leak in your roof that is allowing moisture to enter.
3 – Your Roof is Sagging
If you notice that your roof is sagging or appears lopsided in certain areas, this problem cannot be ignored. If your roof is warped or sagging, give us a call immediately to schedule an inspection.
4 – Clogged Gutters
If your gutters are clogged with shingle materials, this could be a sign that your roof is deteriorating. This is especially true for asphalt roofs that break down as they age, causing pieces of shingles to slide down into your gutters.
Decades of Combined Experience
Why Choose Rainy City Roofing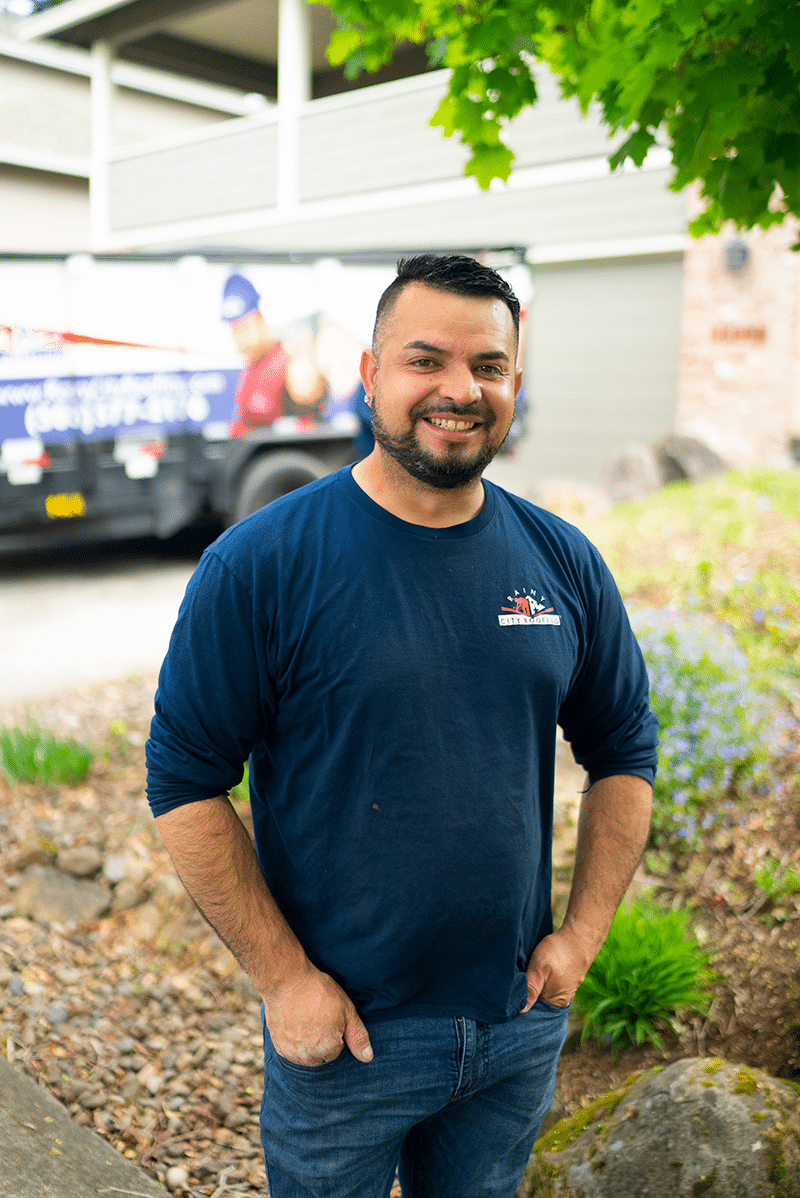 Our family-owned business has been dedicated to the maintenance and roof replacement Portland depends on for over 20 years. We're a team of certified, local roofing contractors who look forward to responding to questions or maintenance calls right away.
No matter what issues you are facing with your roof, we accurately diagnose the problem and present the right solution for your needs. Our individualized attention to every customer ensures the best possible outcomes.
We look forward to serving you! Count on us to keep your home or business safe and dry for years to come!
Request Roof Repair in Portland Now: (503) 577-2176