Roof Cleaning
Residential & Commercial Services
NEED A RELIABLE ROOFING COMPANY IN GRESHAM OR THE PORTLAND AREA?
Residential & Commercial Roof Cleaning
As a homeowner, you rely on your roof for a lot. It protects you and your family from rough and potentially dangerous elements. Without your roof, you and everything you own would be completely soaked.
This is why it's so important to maintain and keep your roof in good condition. Rainy City Roofing is here to take the stress off of roof cleaning. Our highly trained staff is available whenever you need us to help keep your home or business safe for years to come.
We're ready to tackle your roof cleaning needs and help your property look better than ever. If you also need your gutters cleaned, we can take care of that too! When it comes to your roof cleaning needs, we take care of it all.
Request Roof Cleaning in Portland Today: (503) 577-2176
Schedule Your Appointment
Want your roof to look as good as new this season? Don't wait! Get in touch with us today to schedule your appointment with our experts.
Why Roof Cleaning Matters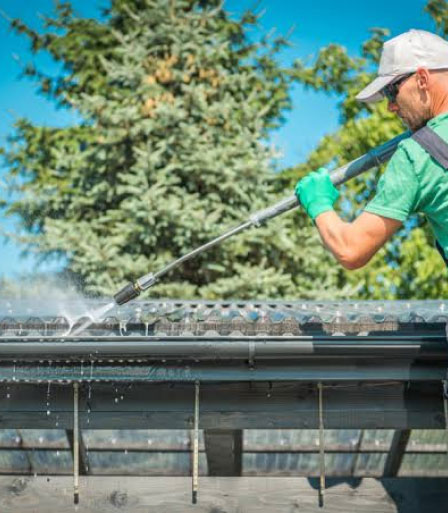 Taking care of your roof doesn't just mean making sure the shingles are all intact and that your gutters aren't coming off. If there is an excess of debris and dirt on your roof, you could be in for some serious trouble.
After a while, the junk on your roof can get so heavy it can create tears or holes in your roof. To make sure that doesn't happen, Rainy City Roofing is here to help. Our team of trained professionals always put the customers first in all areas of our business. We know that proper roof cleaning is one of the most important ways we can help keep our customers safe.
We know how hard it is to handle roof problems while dealing with many of life's other issues. Let us take the stress off of your shoulders so you can finally check this task off of your to-do list. For Portland homeowners and businesses, roof cleaning can't be neglected. Let us help restore your roof to like-new condition with a thorough cleaning!
Trusted Roof Cleaning Services
Why Choose Rainy City Roofing
Thanks to decades of experience, Rainy City Roofing is one of the most trusted roofing services in the Portland area. We take care of roof tear-offs, re-roofing, cleaning, gutter installation, and more.
With over 20 years of experience caring for roofs around Portland, we identify the best custom solution for each customer — which makes all the difference in satisfaction and roof performance in the long run.
Rainy City Roofing is a family-owned business. We dedicate ourselves to high-quality services our customers can count on. Whenever you need our help, just give us a call! We have highly trained staff members available to help answer your questions and address your roofing needs.
As a local, certified roofing company in Portland, we can't wait to keep your property safe, dry, and comfortable for years to come!
Request Roof Cleaning in Portland Now: (503) 577-2176